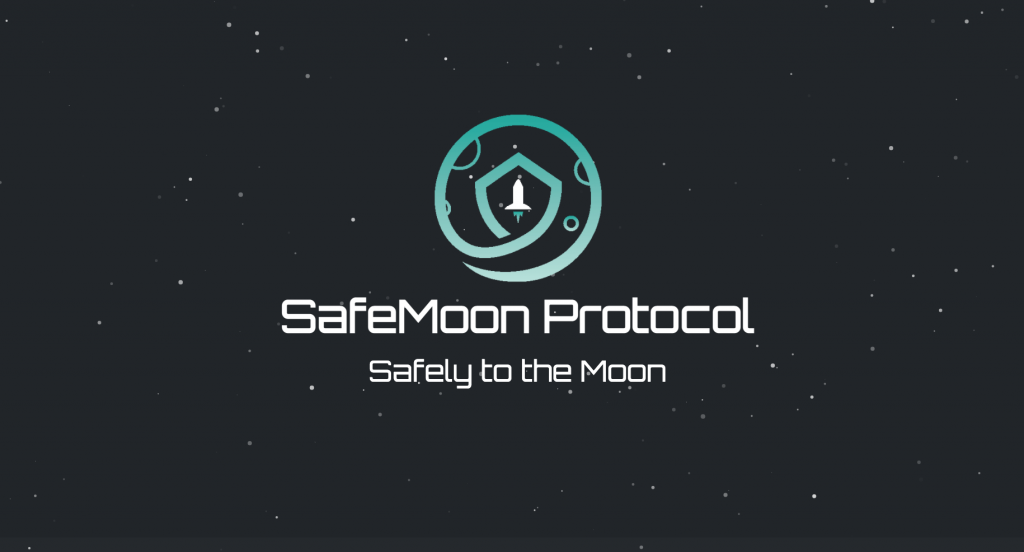 In the past year, cryptocurrencies and crypto-related assets have become some of the most popular trends on the internet from meme coins to NFTs, decentralized metaverses, and many more.
The Defi ecosystem which is one of the many ecosystems in the crypto industry has really taken off and we've seen many of the so-called "meme coins" gather the much-needed attention to become some of the biggest tokens in recent times with very strong communities behind them.
One of such tokens is the Safemoon token which has one of the most active communities right now.
If you're one of the many Safemoon bag holders and currently searching for a way to sell Safemoon on Trust Wallet, then this post will show you just how to convert your Safemoon to BNB easily.
How To Sell SafeMoon On Trust Wallet Easily
To sell your Safemoon coins, you will be needing two things: the Trust Wallet App (which I assume you already have), Pancakeswap (a decentralized exchange that lets you exchange one token for another on Binance Smart Chain), and a verified account with one of the top Crypto exchanges where you can sell your tokens for fiat currency (cash) and send to your personal bank account.
If you don't have the Trust Wallet App on your smartphone, please go ahead and download it here. If you already have the app on your smartphone, follow the steps below to swap SafeMoon on Trust Wallet.
And just in case you don't have an account with any Crypto exchange, we recommend Binance as they have the best liquidity and the lowest trading fees of any of the popular centralized Crypto exchanges available right now.
If you don't have a Binance account, you can sign up for a free one here or use the referral code "W70PMCZD" on the Binance mobile app.
Now that you probably have all the needed accounts and apps for this process, below is a step-by-step guide on how to sell your Safemoon tokens on Trust Wallet.
Step 1: Convert SafeMoon to BNB on Trust Wallet
Launch the Trust Wallet App on your smartphone and click on DApps (or "Browser" on iOS).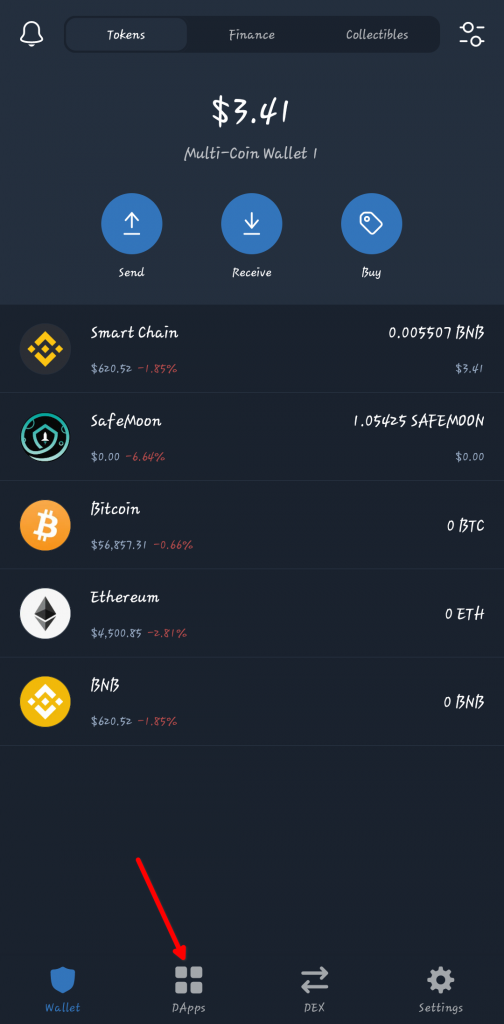 On the DApps tab, scroll down to the "Popular" section on the page and click on "PancakeSwap" to load the PancakeSwap exchange page.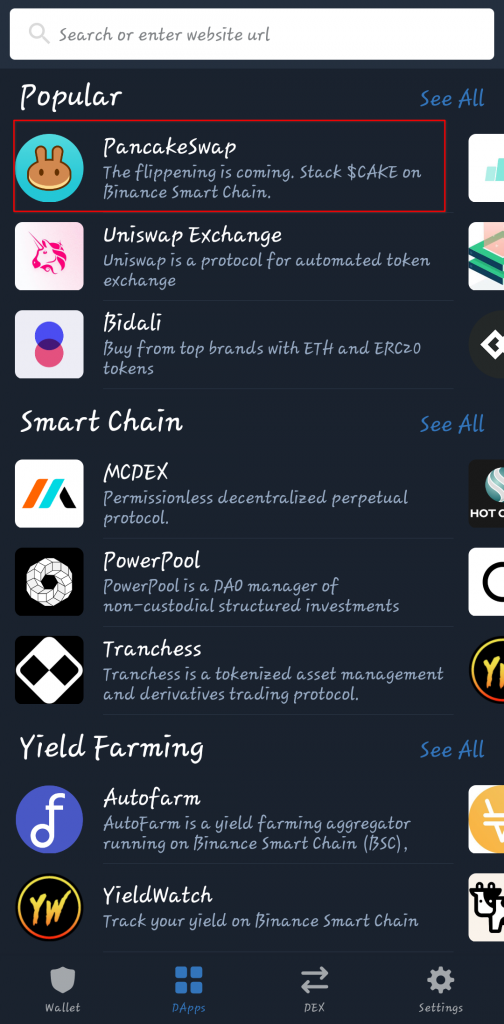 Note: If you don't see it, just type in "pancakeswap.finance" (without quotes) in the address bar and that should do.
Also, if you're on iOS and can't find the DApps tab, then you're not alone because the DApps browser has been removed on the Trust Wallet app for iOS. You can check out our article on how to enable the Trust Wallet DApps browser to see how you can access DApps (Pancakeswap in this case) on your iPhone.
Now, click on Connect Wallet and tap on Trust Wallet in the dialog to connect PancakeSwap with your wallet on Trust Wallet. Authorize the connection if asked by Trust Wallet to ensure everything works correctly.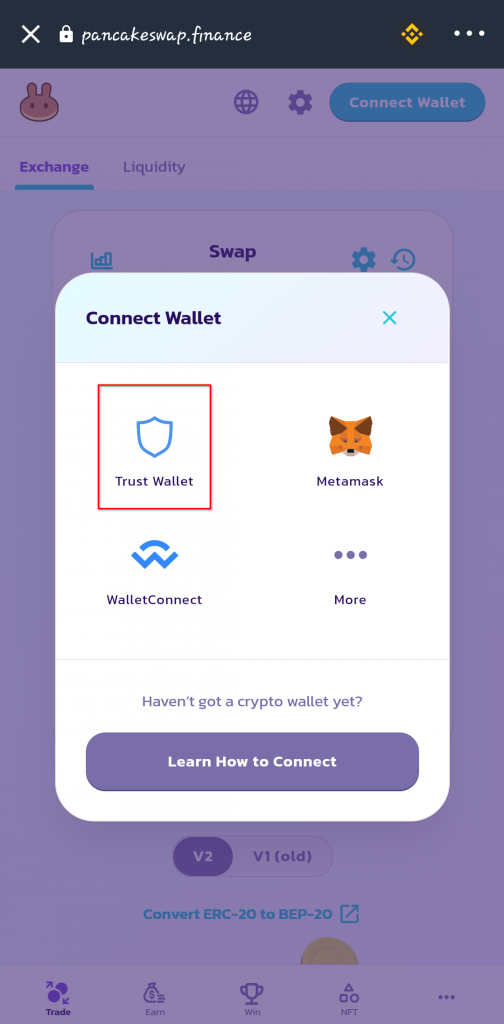 Tap on the first dropdown button (BNB is the default selection) to change the token to be swapped then search for "SafeMoon" in the dialog shown then select it.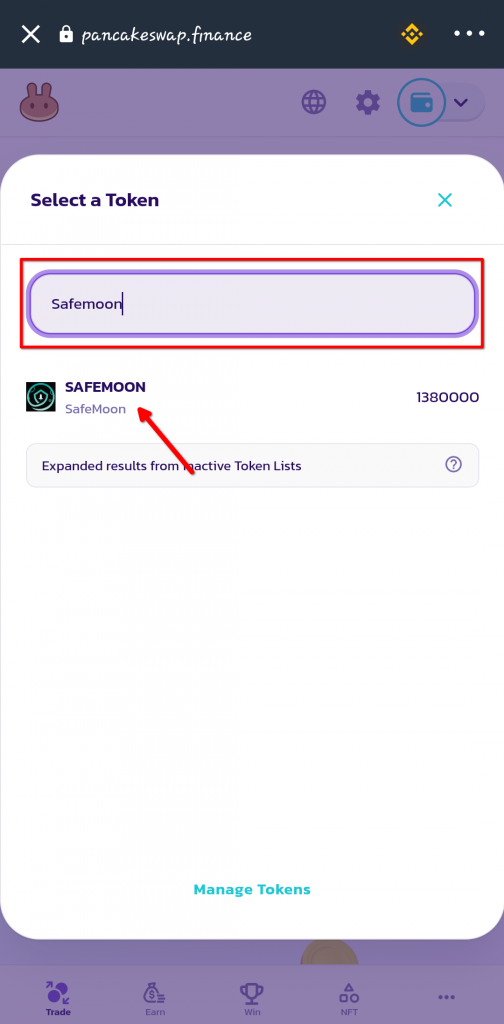 After selecting Safemoon in the above step, Pancakeswap will show you a notice including the correct slippage tolerance and associated transaction fees when trading SafeMoon, tick the "I Understand" checkbox and click on "Continue".
Once the notice is closed, you will have to choose the token you want to swap to. For this guide, we will be swapping to BNB because it's just easier to do it this way.
Click on the second dropdown button (CAKE is the default selection) to change the token you will be swapping Safemoon for then search for "BNB" and select it in the dialog shown.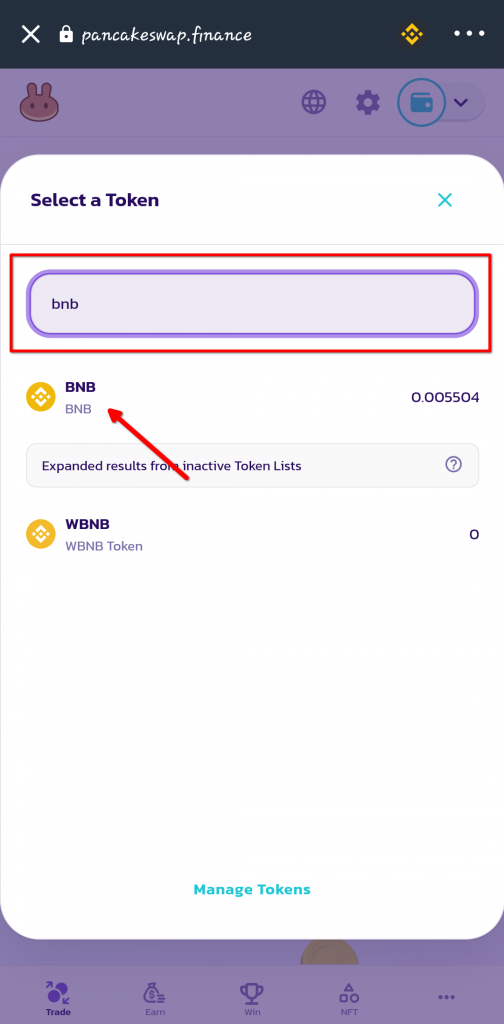 Type in the amount of Safemoon tokens you want to swap. Tap on "Max" to swap the maximum available SafeMoon tokens in your wallet then click on "Swap".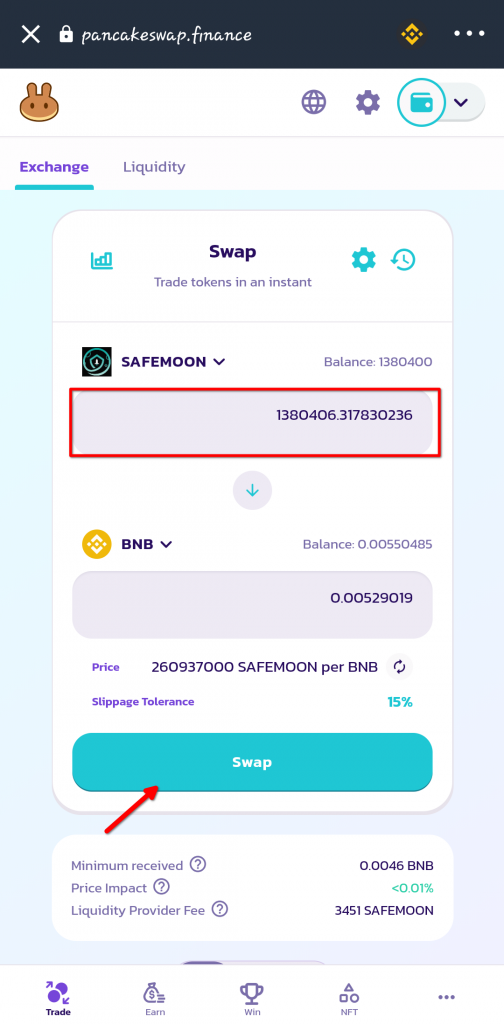 Then click "Confirm Swap"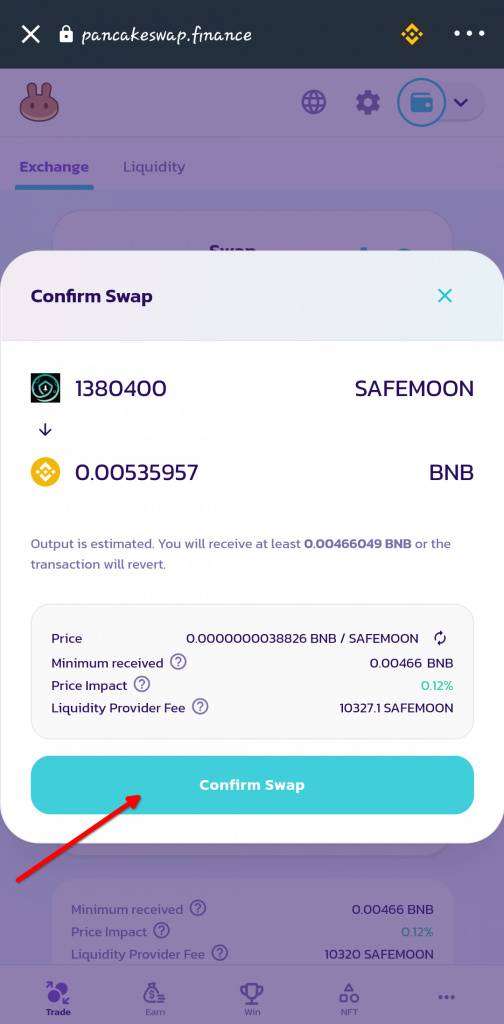 You'll now be redirected to a page that shows you the network fees (in BNB) which will be used to complete the transaction (usually a very small fee). If you're fine with it, hit Send and the swap should be completed in some minutes depending on the current network load.
Once your swap is completed, the status should go from "Pending" to "Succeeded" and your wallet will be credited with the correct amount of BNB coins.
Step 2: Convert Smart Chain To BNB
Binance operates 2 blockchains – the Binance Chain (bep2) and the Binance SmartChain (bep20) and each blockchain uses a different type of BNB as currency.
SafeMoon is an asset on the Binance Smart Chain Blockchain and the currency used on this chain is the BNB for Binance Smart Chain (bep20). To make things easier when transferring BNB back to Binance, we will be converting the Smart Chain BNB gotten from the transaction back to the Binance Chain BNB directly on Trust Wallet.
To do this, click on your Smart Chain balance on Trust Wallet from the list of available balances then click the More button on the new page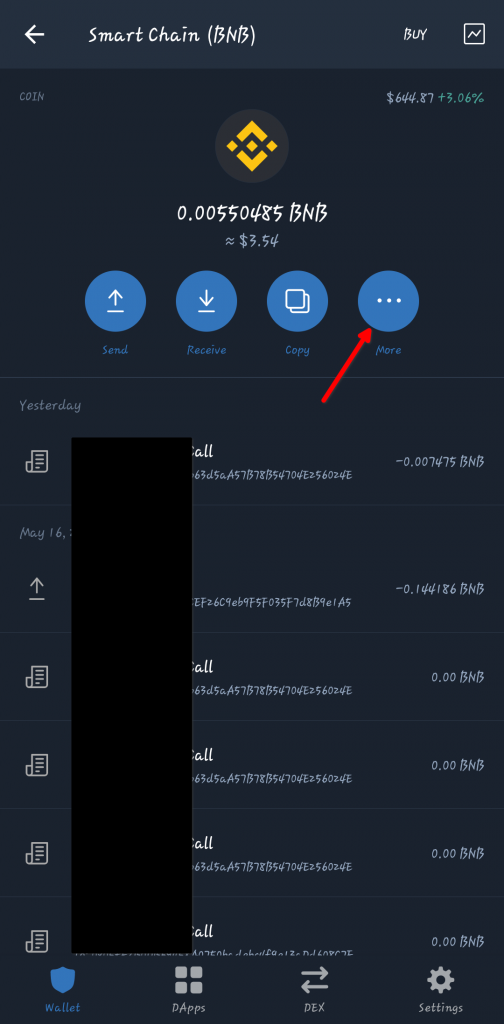 Select "SWAP TO BINANCE CHAIN"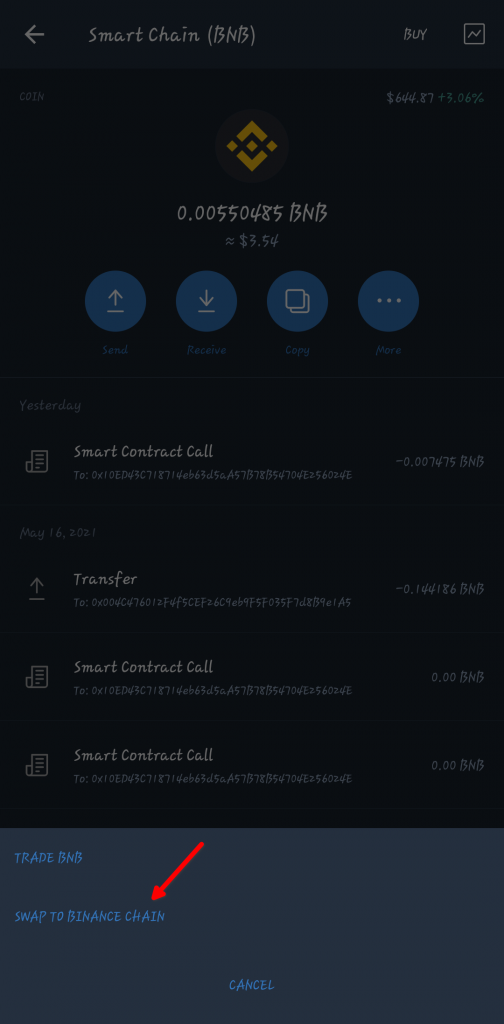 Fill in the amount of BNB (Smart Chain) you want to convert to BNB (Binance Chain) and click on Swap.
Review network fees and click on Confirm to authorize the transaction. To view your BNB (Binance Chain) balance, hit the back button and swipe down on the Trust Wallet homepage to reload balances
Step 3: Send BNB from Trust Wallet to Binance
To transfer BNB from Trust Wallet to Binance, launch the Binance app navigate to the Wallets tab.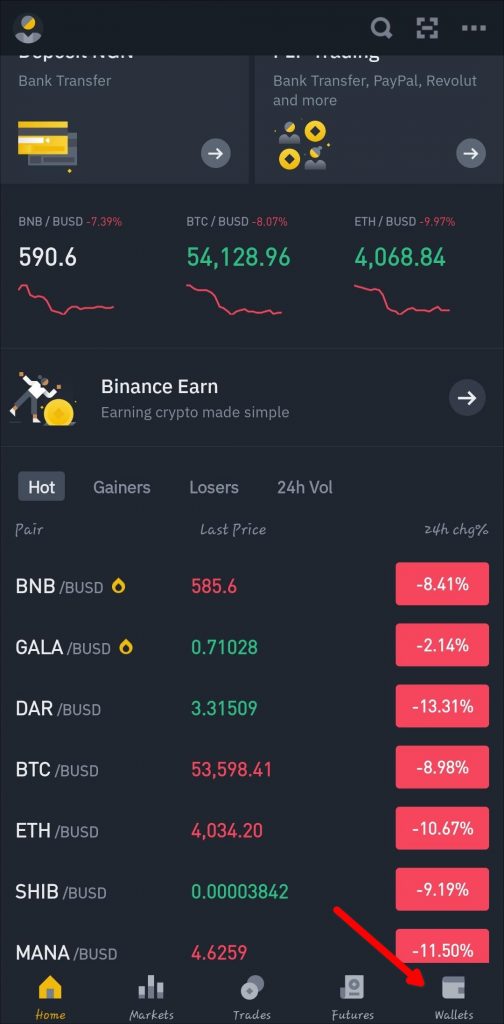 Click on Deposit and search for BNB and select BNB from the list of coins displayed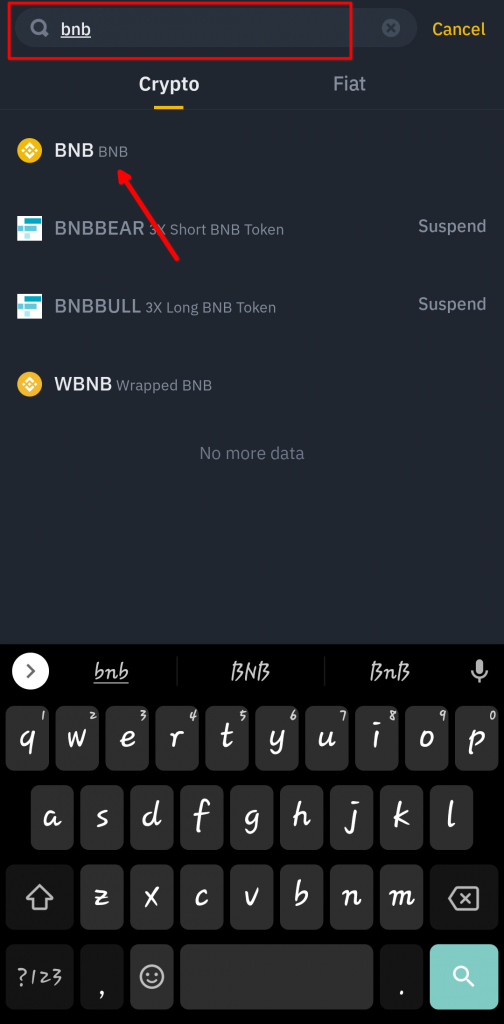 Select the Binance Chain (BEP2) network. Choosing another network might result in a permanent loss of funds!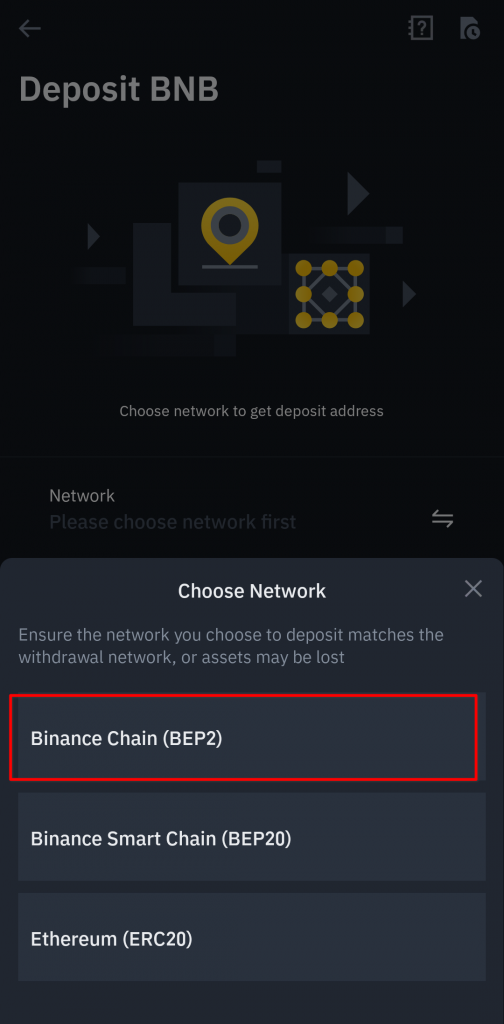 Copy the BNB wallet address and the BNB MEMO. The MEMO is required when transferring BNB from a wallet to an exchange, failure to include it will result in permanent loss of funds!!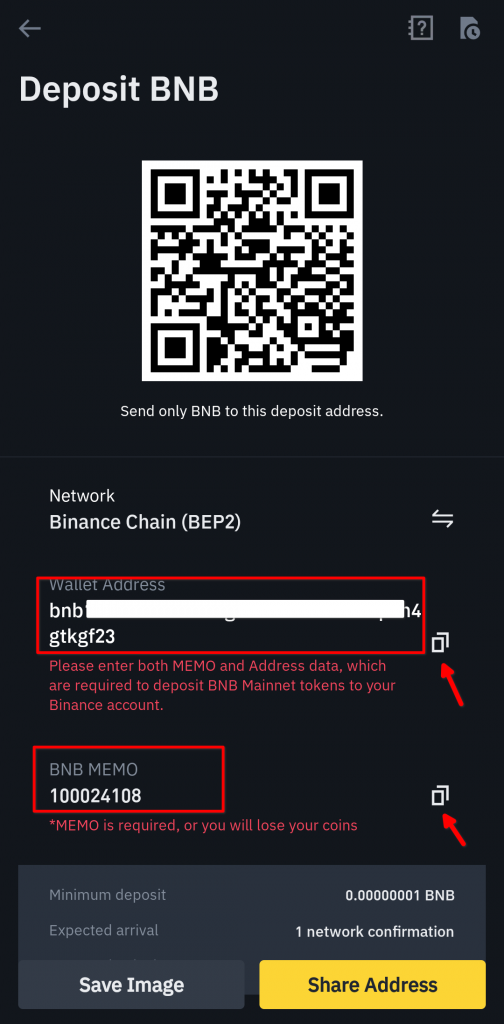 Go back to the Trust Wallet app and click on your BNB(BNB) balance then click on the Send button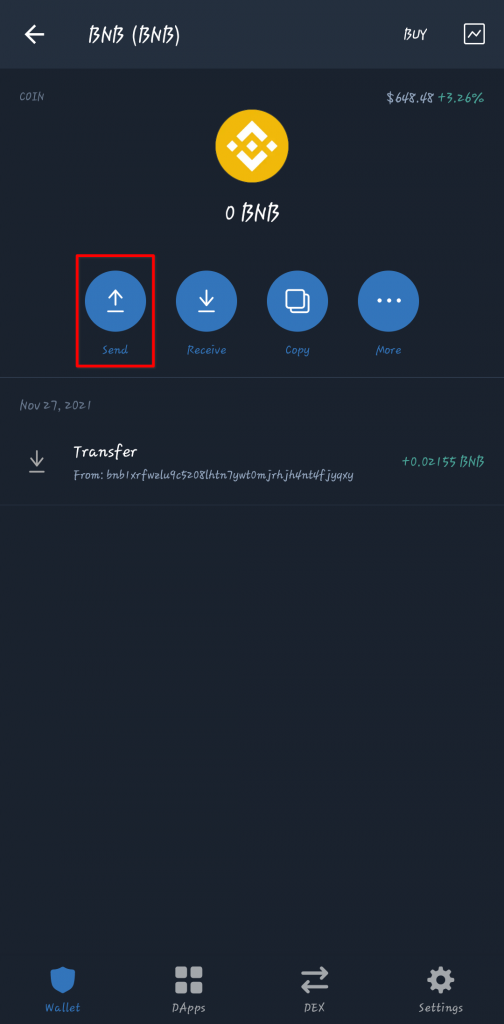 Paste your Binance BNB address, amount of BNB to be transferred, and the MEMO.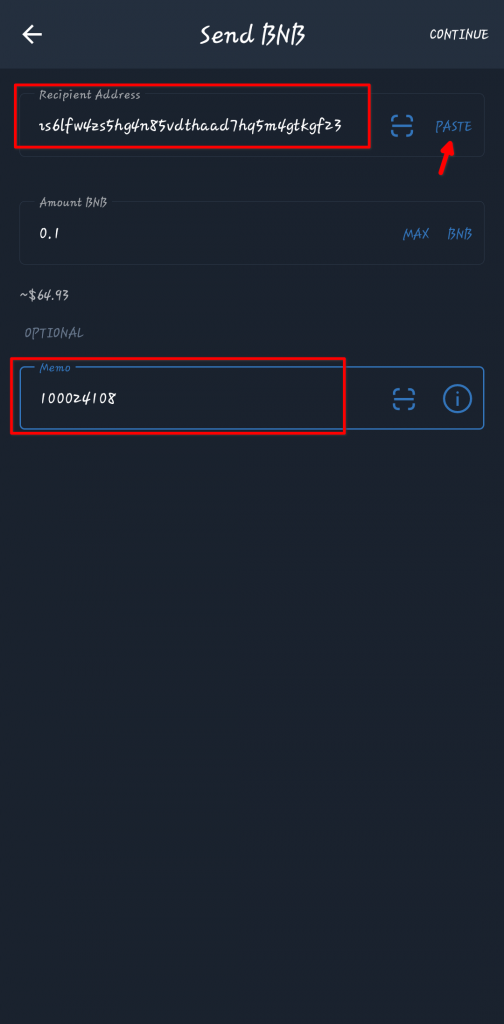 Cross-check the BNB address, MEMO, and amount of BNB to be sent. If you're sure they're correct, tap on Continue on the top right corner.
Finally, review network fees and click on Approve to authorize the transaction.
Note: If you are using other centralized exchanges like Coinbase, Kranken, Kucoin or any other exchange at all that is not Binjance.com or Binance.us, the process is almost the same.
Just copy your BNB (bep2) address (starts with "bnb___") from the said exchange, then copy the MEMO. Fill in those details in Trust Wallet alongside the amount of BNB to be transferred then click Continue and approve the transaction.
Step 4: Convert BNB to a Stable Coin/Fiat Currency
To convert your BNB to cash, you will need to send the BNB from trust Wallet to a centralized crypto exchange where you can swap to stablecoins USDT, BUSD, or fiat currencies including AUD, RUB, EUR, GBP, etc then send directly to your bank account, card or online wallets.
For this tutorial, we'll be using Binance because of course, it is the biggest exchange by trading volume and it is available in more countries when compared to other exchanges like Coinbase. Using another exchange will also work for converting BNB to cash and transferring to your bank account in case Binance doesn't work or is restricted in your country.
To convert your BNB to a stable coin on Binance, launch the Binance app and search for BNB/USDT or BNB/BUSD trading pair in the Markets tab. You can also convert directly to fiat currency used in your country of residence using pairs like BNB/RUB, BNB/EUR, BNB/AUD, and more.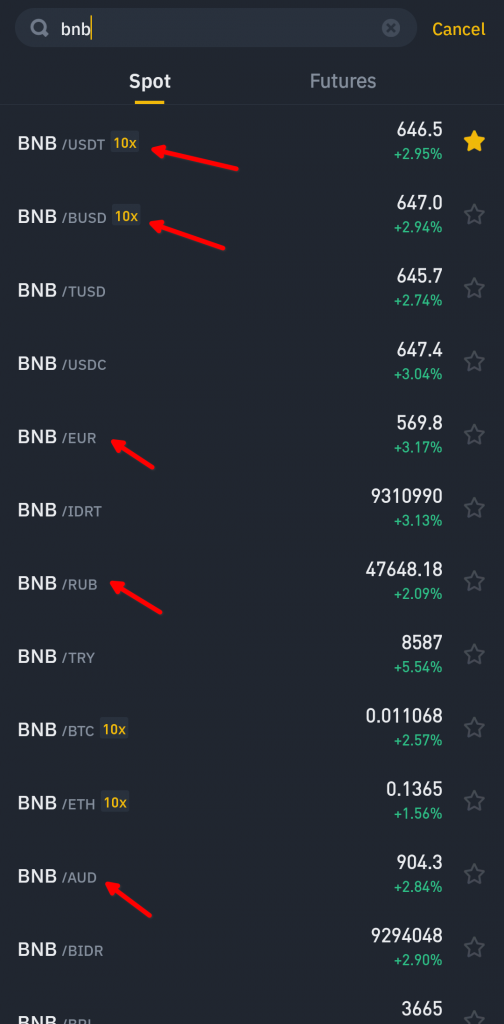 Click on the Sell button in the bottom right corner and input the amount of BNB you want to convert to USDT and then tap on Sell BNB.
Step 5: Send funds to your bank account or sell on Binance P2P
Depending on your country of residence, you might be able to send your stable coins (i.e BUSD) or fiat currencies (AUD, RUB, GBP, EUR, and more) directly to your bank account or to your credit/debit card.
For countries where cryptocurrencies are banned or restricted, you might not be able to transfer directly but the Binance P2P marketplace is a very good solution for this problem. You can sell your coins directly to buyers on Binance while being protected by the Binance escrow service.
Conclusion
Selling Safemoon on Trust Wallet might seem like a daunting task for people who are new to the app and transferring coins between crypto wallets and exchanges is another big hurdle.
If you got this part of the article, transferring cryptocurrencies between wallets and swapping from one token to another on decentralized exchanges should be less of a hassle for you now. Got any questions or encountered any issues whilst following the guide? Tell us in the comments below and we will do our best to help.