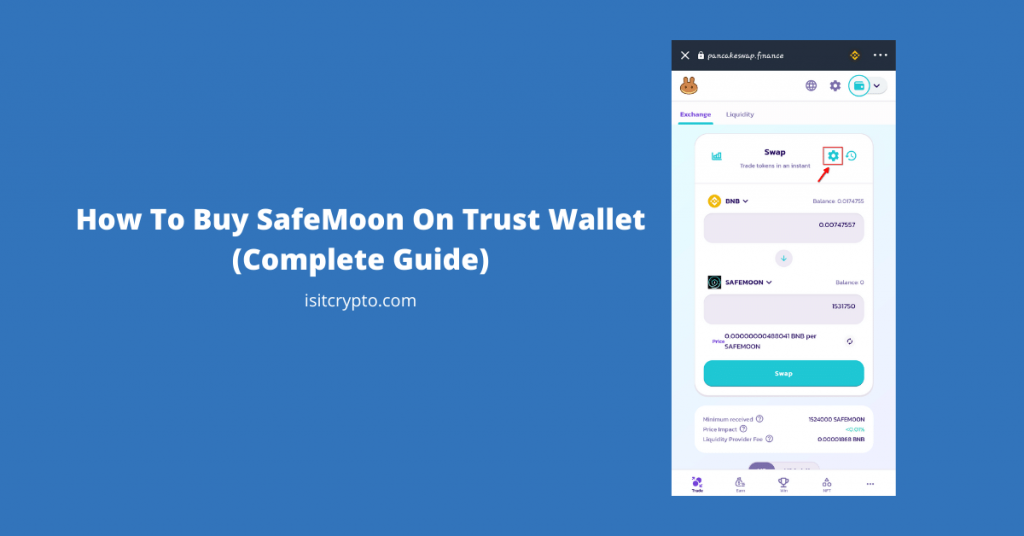 According to Google trends, Safemoon is one of the most searched cryptocurrencies in 2021 and the token shot up more than 20,000% back in April of 2021 given early investors a huge return on their initial investments.
SafeMoon is still a very much growing token with a strong active community and devs working on products under the token like the Safemoon wallet, Safemoon exchange, and many more.
Looking to bag some Safemoon tokens and become a holder like many others invested into this token? Well, in this guide, you will get to learn how to buy Safemoon on Trust Wallet easily + more.
Without wasting more time, let's jump right into the guide.
How To Buy Safemoon On Trustwallet (Quick Guide)
Create a Binance account, if you don't have one, click here to create one,
Login into Binance and purchase some BNB
Launch the Trust Wallet app on your smartphone and copy your BNB address (not Smart Chain)
Send the amount of BNB you wish to convert to Safemoon from Binance to your Trust Wallet BNB address
Convert BNB (Binance Chain) to Smart Chain BNB
Proceed to Pancakeswap on your Trust Wallet DAapp browser and swap your Smart Chain BNB for Safemoon
Refresh your Trust Wallet to see your Safemoon balance
How To Buy Safemoon On Trust Wallet (Step by Step Guide With Pictures)
To purchase Safemoon on Trust Wallet, you (of course) need the Trust Wallet app and an account with Binance. You can also buy BNB directly on Trust Wallet with your credit card/debit card with a 5% fee, but for this guide, we'll be using Binance.
If you haven't downloaded the Trust Wallet app on your smartphone you can search for "Trust Wallet" on the App Store/Google Playstore (depending on your device) and download it there.
Don't have a Binance account? You can create one easily using this link.
For this guide, you will need a Binance account to purchase Binance Coin (BNB) and the Trust Wallet app to convert your BNB to Binance Smart Chain Coin and then to Safemoon tokens via Pancakeswap.
Don't worry if these steps are looking foreign to you as we'll be covering them in-depth in the step-by-step guide below.
Step 1: Purchase BNB
To purchase an asset on the Binance Smart Chain, you need the Binance coin. You can purchase BNB directly on Binance with your credit/debit card, Bank transfer, or via P2P (if you're in a country where Binance doesn't support direct bank transfer or card payments).
Alternatively, you can purchase BNB directly on Trust Wallet via payment processors like Moonpay and Simplex. I generally don't recommend this because the fees are quite high when compared to purchasing BNB on Binance.
Step 2: Copy your BNB wallet address on Trust Wallet
Launch the Trust Wallet app and click on BNB(BNB)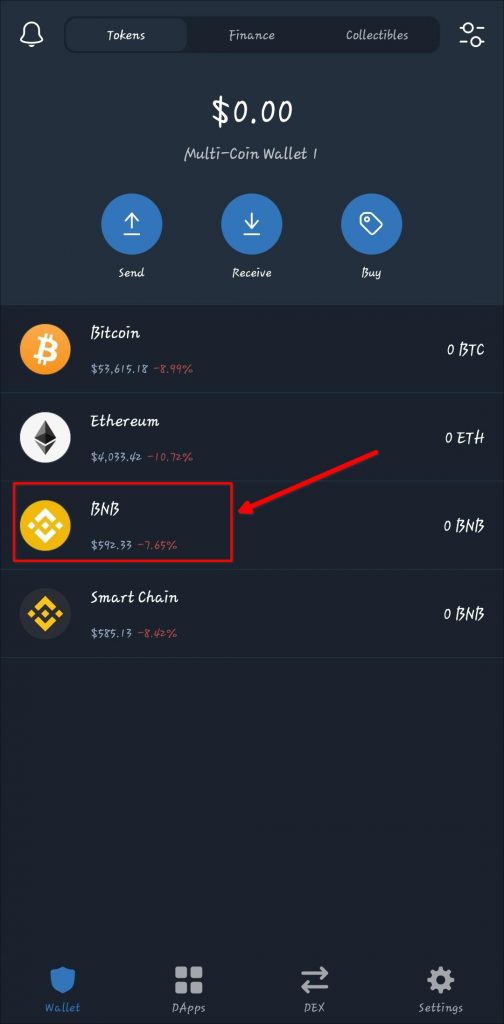 Tap on Copy to copy your Trust Wallet BNB address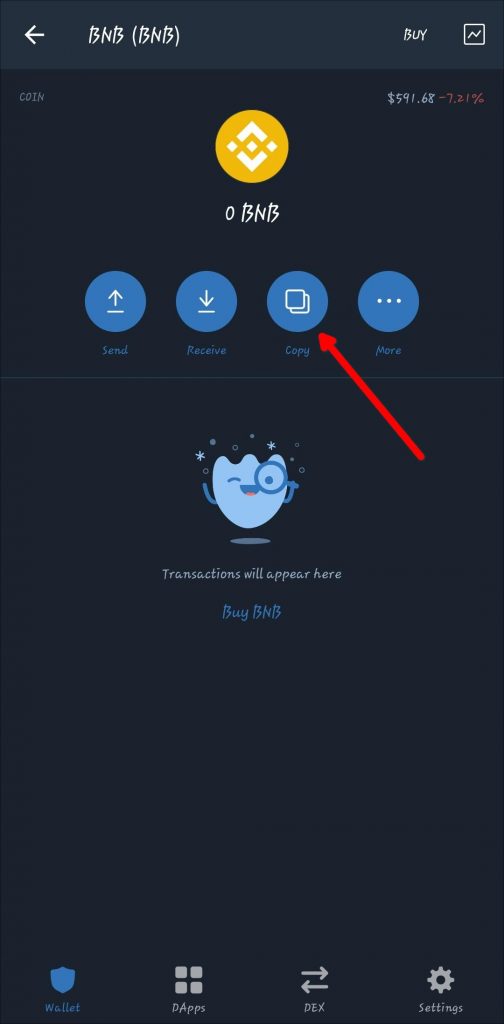 Step 3: Transfer BNB from Binance to Trust Wallet
Launch the Binance app and click on the Wallets tab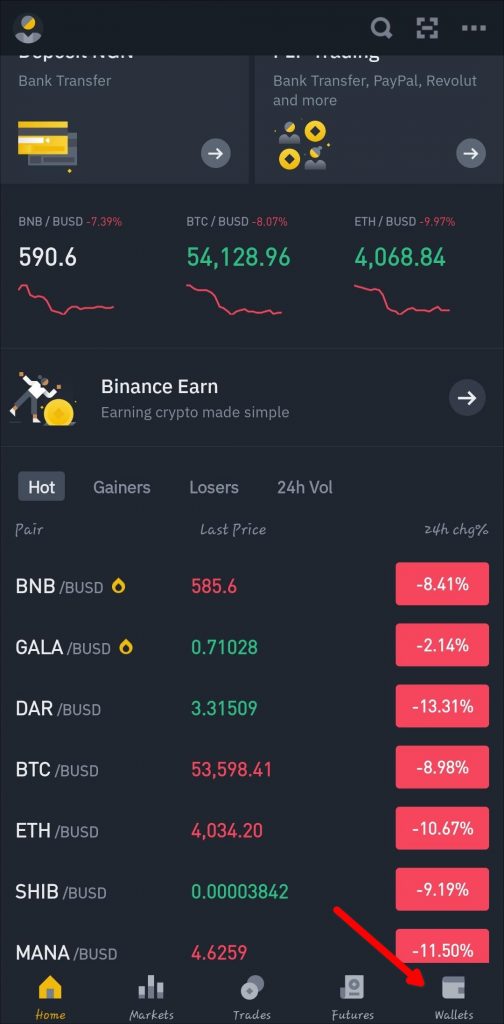 Tap on Withdraw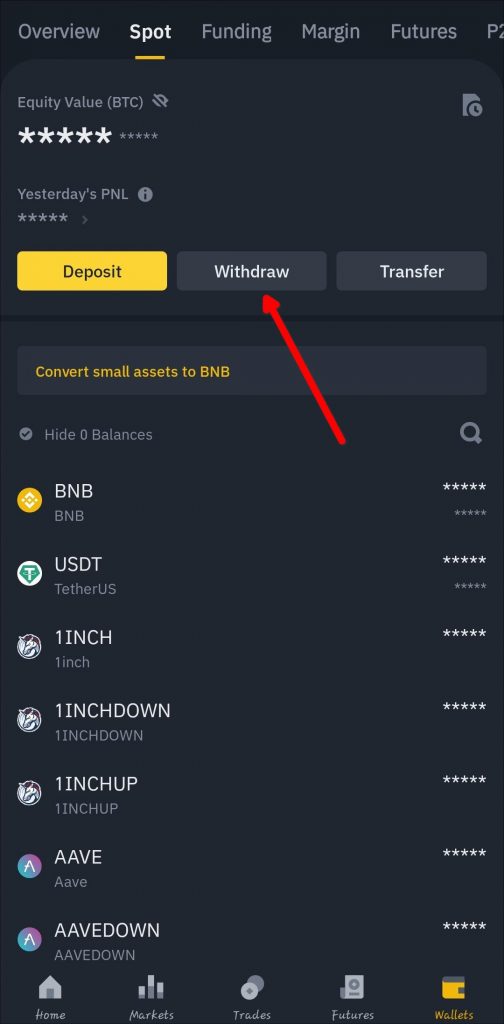 Select BNB from the available balances listed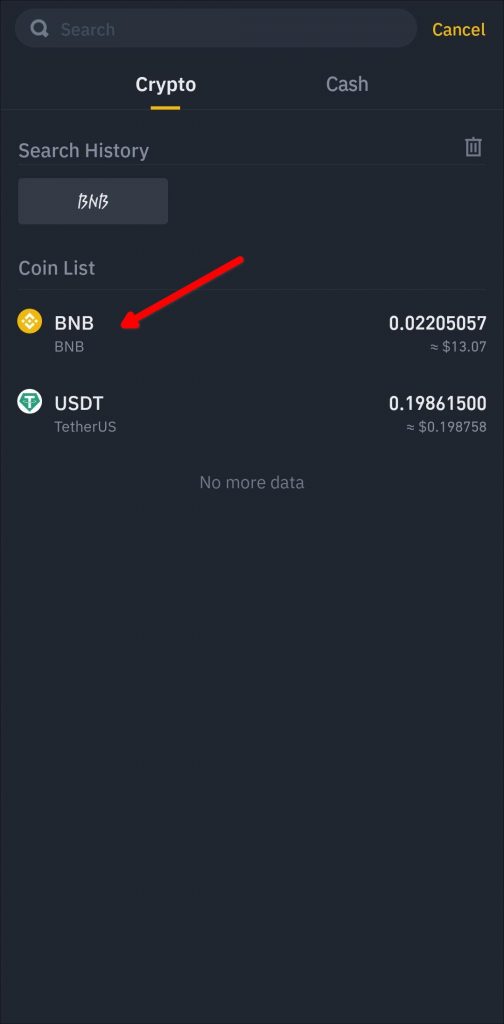 Paste your Trust Wallet BNB address that was copied in the earlier step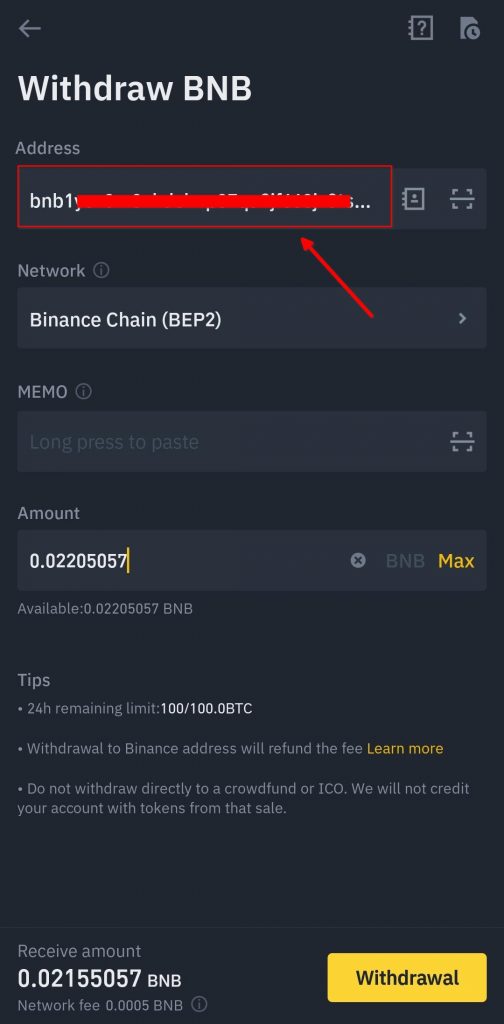 Input the amount of BNB to be transferred to Trust Wallet or click on Max to transfer all available BNB on your Binance account.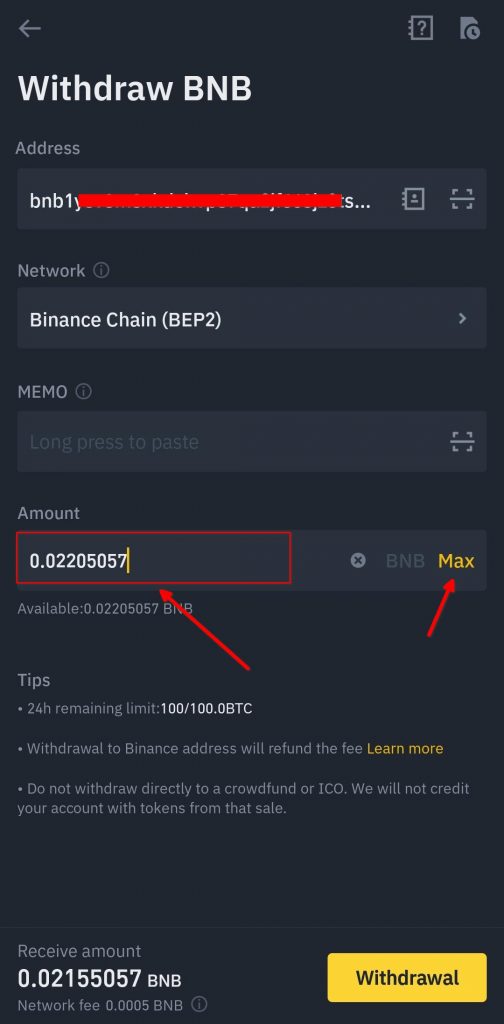 Leave the MEMO field empty and click on Withdrawal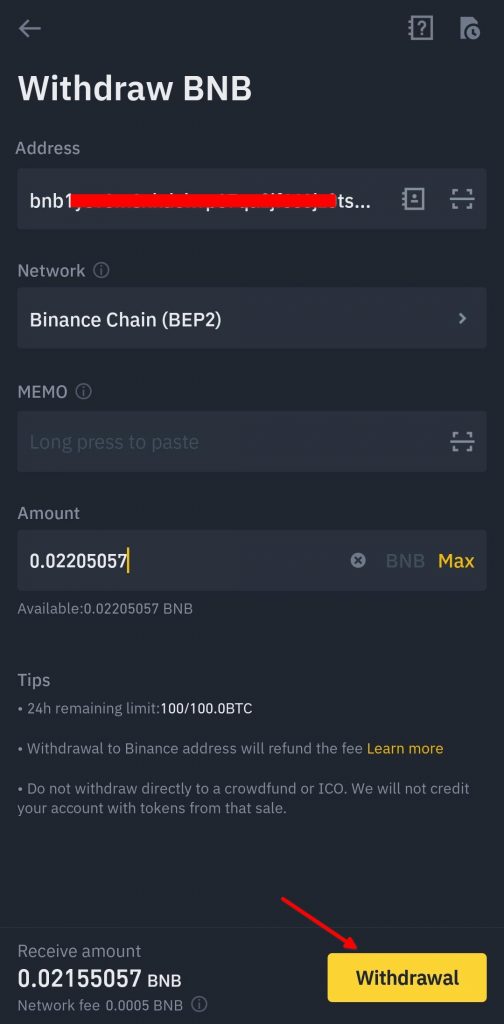 Note: After tapping on "Withdrawal", Binance should show a dialog saying "You did not fill in MEMO. Please confirm that the receipt address does not need to fill in MEMO, digital ID, or remark".
Just click on Submit since Trust Wallet BNB addresses do not require a MEMO to receive BNB.
Cross-check the BNB address and click on Confirm. Complete the 2-step verification to approve the transaction then go back to the Trust Wallet app and refresh to update balances.
Note: Sending BNB from Binance to Trust Wallet or any other crypto wallet typically takes anywhere from 3 mins to 15 mins so your BNB balance might take some time to reflect on Trust Wallet.
Step 4: Convert BNB to Smart Chain on Trust Wallet
On Trust Wallet, tap on your BNB balance.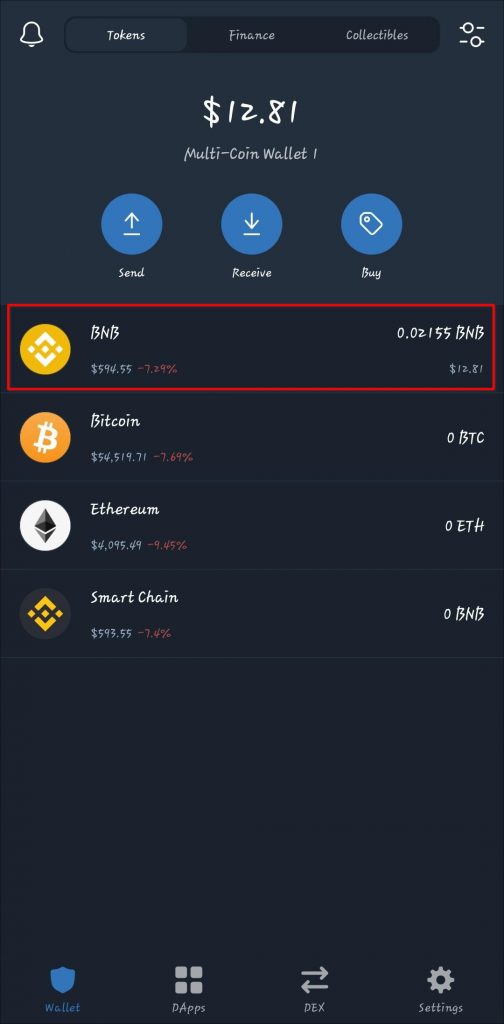 Click on More and tap "SWAP TO SMART CHAIN".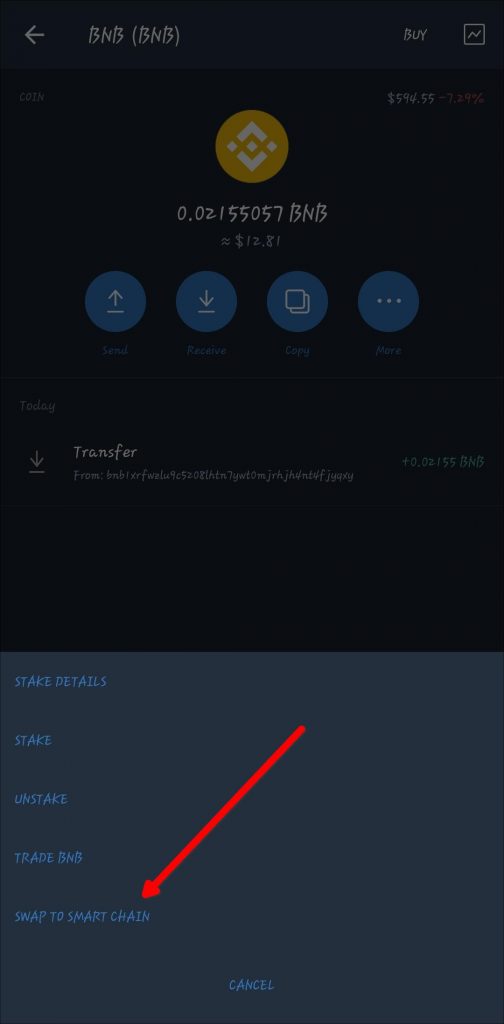 Input the amount of BNB you want to swap to Smart Chain or use the selector to input the percent of BNB from the balance that will be swapped to Smart Chain.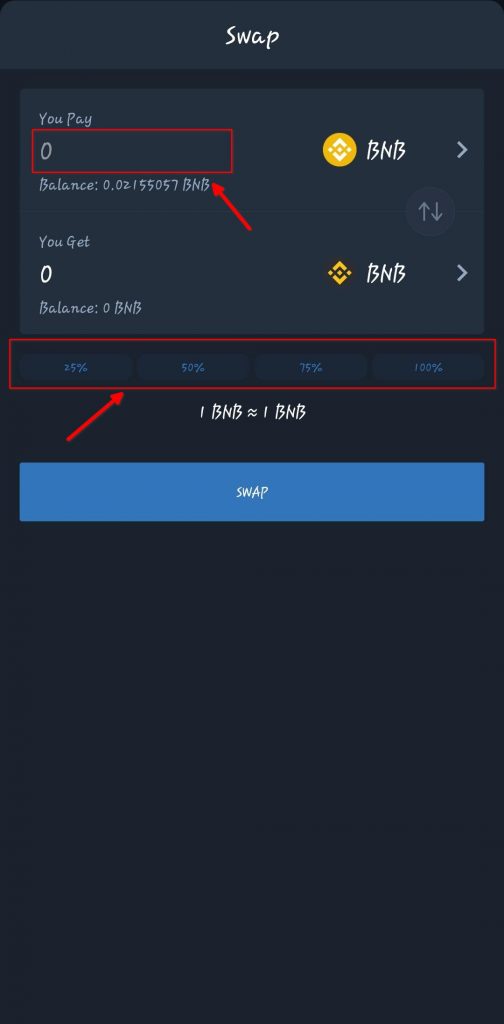 Click On Swap, then review network fees and click on Confirm to approve the transaction.
Refresh Trust Wallet by swiping down to view your Smart Chain balance.
Step 5: Swap BNB for SafeMoon on PancakeSwap
Tap on the "DApps" tab on Trust Wallet. In the DApps section, scroll down and click on PancakeSwap.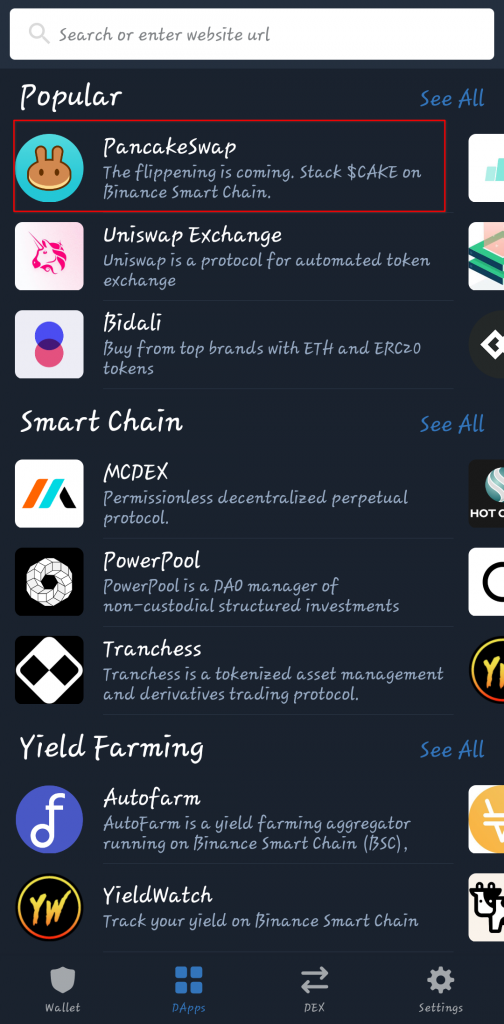 Click on Connect Wallet and tap on Trust Wallet in the dialog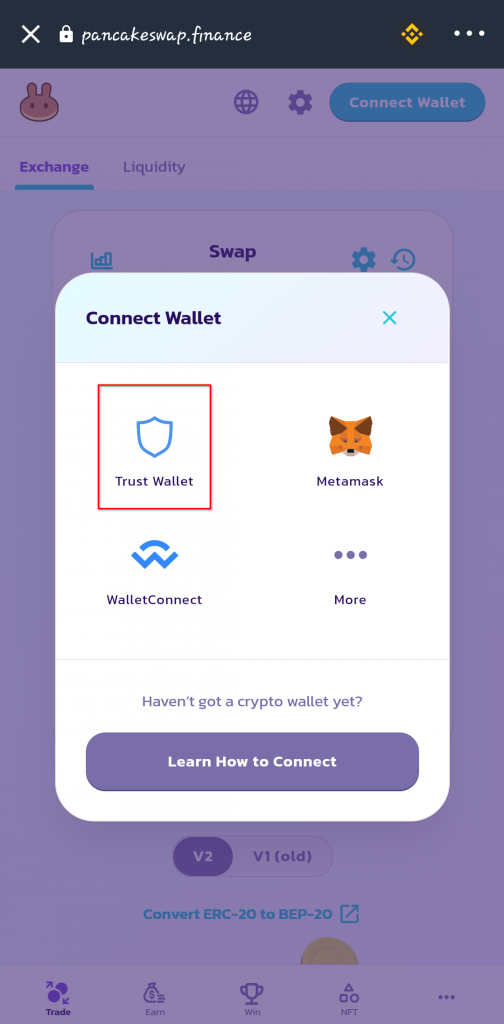 Tap on "CAKE"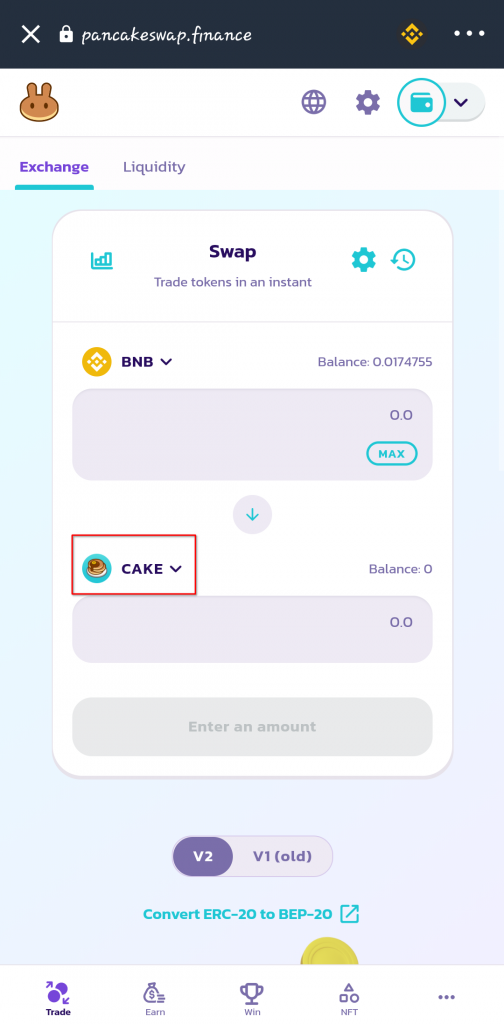 Then search for SafeMoon and click on it to change the token to be swapped from PancakeSwap token (CAKE) to SafeMoon token.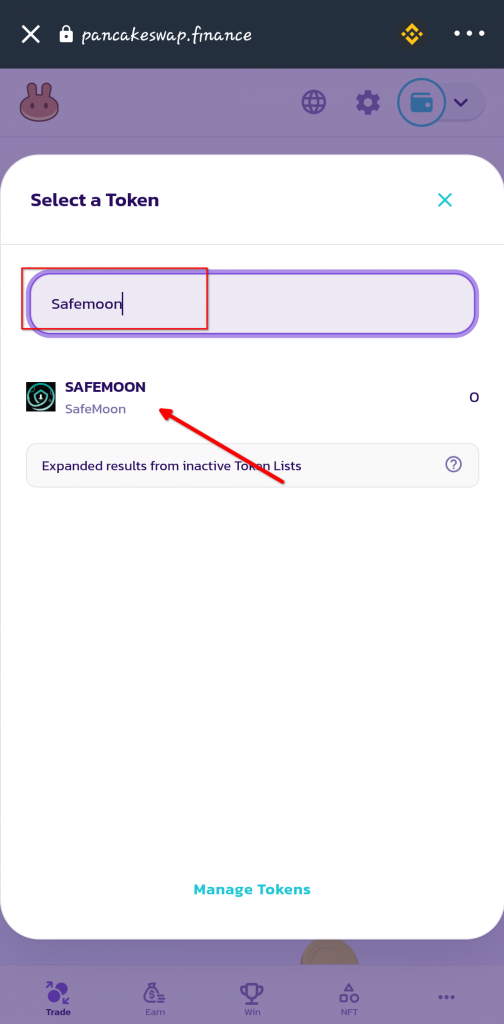 Tick "I understand" and click on "Continue"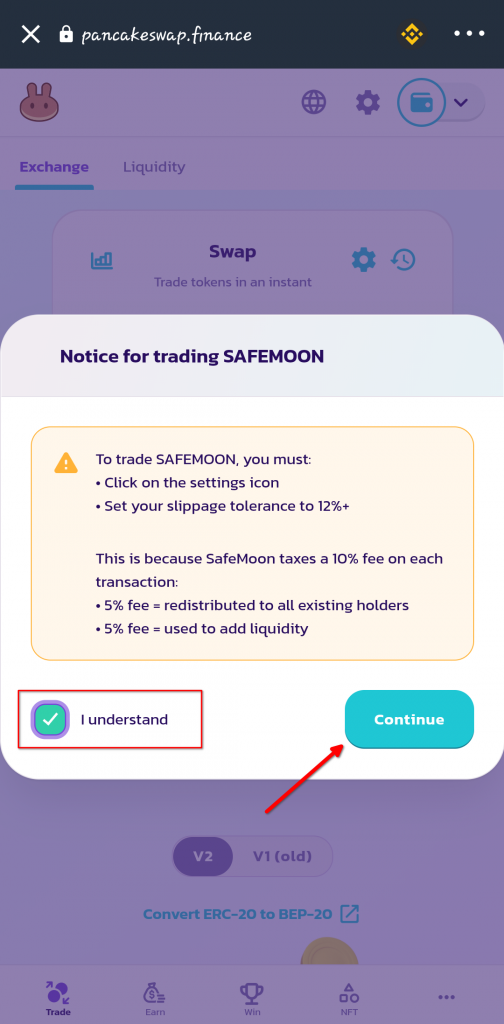 After that, input the amount of BNB you want to swap to SafeMoon. You can click on "MAX" to swap all your BNB tokens to SafeMoon.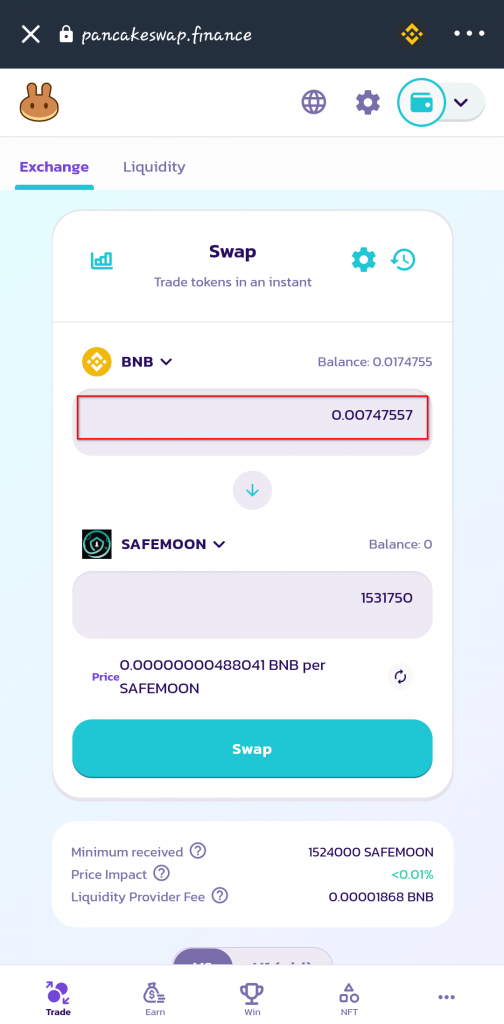 Click on the Settings icon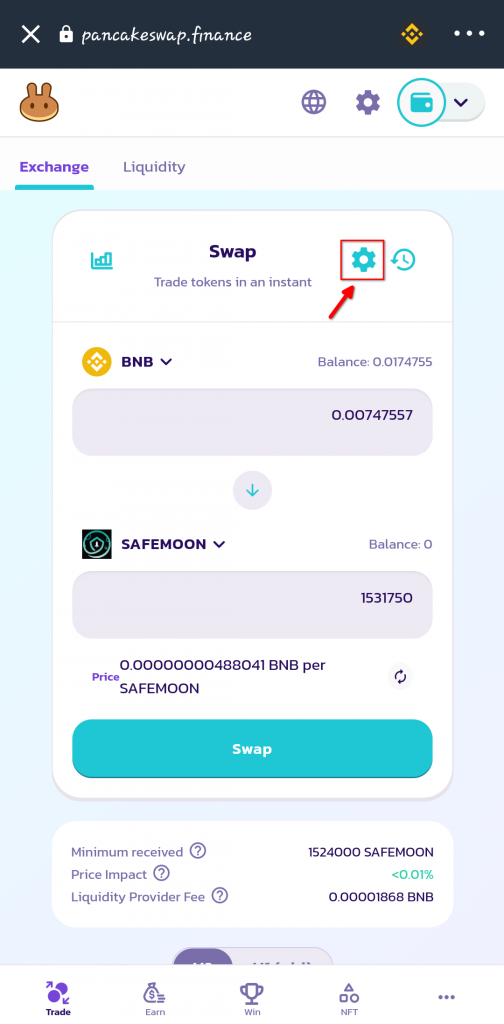 Set slippage tolerance to 15%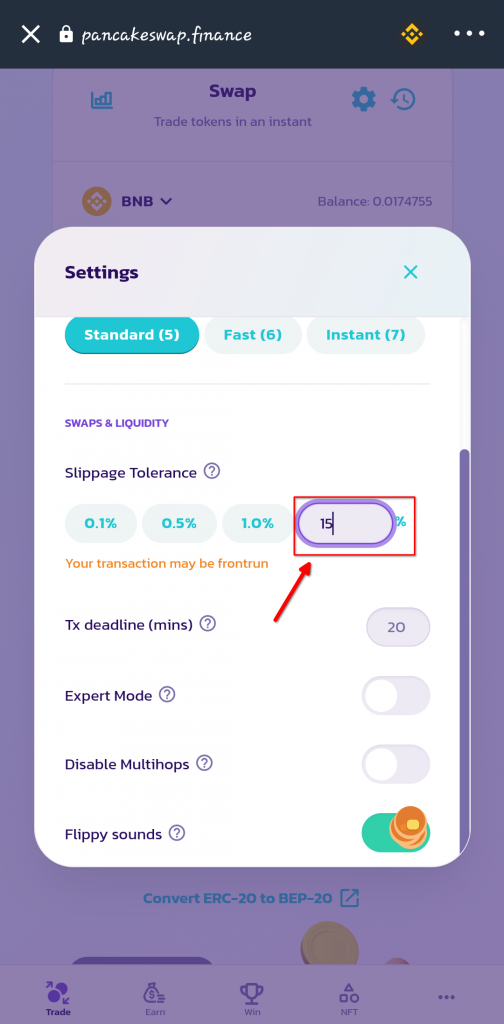 After that, click on Swap then review settings and liquidity provider fee and click on "Confirm Swap".
Confirm the transaction on Trust Wallet and review the network fees then click on "Approve" to confirm the transaction.
Step 6: Add SafeMoon to TrustWallet
The last step would be to add SafeMoon to the list of available balances on TrustWallet so that you can track the progress of your investment.
To add SafeMoon to the list of available balances on your wallet on Trust Wallet, tap on the Settings icon on the top right corner of the Trust Wallet home screen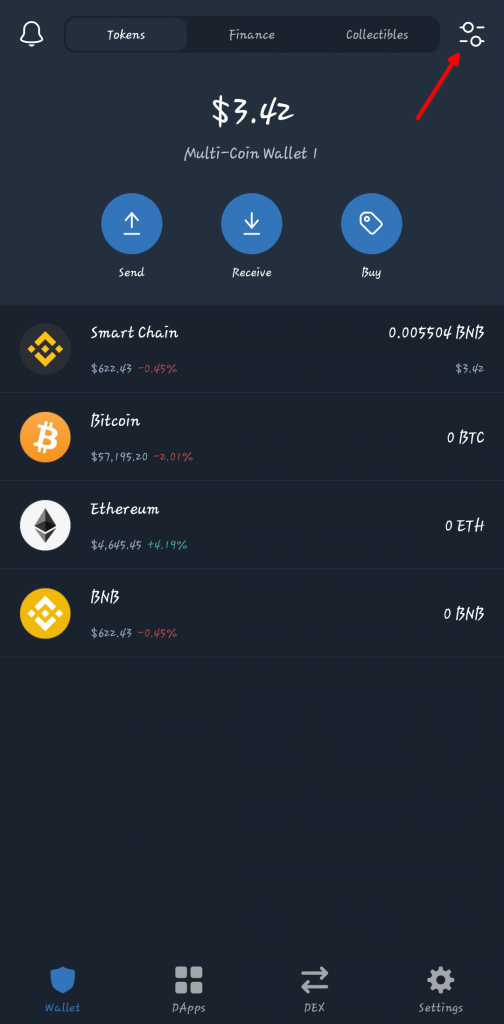 Type in SafeMoon in the search bar and click on SafeMoon (SAFEMOON)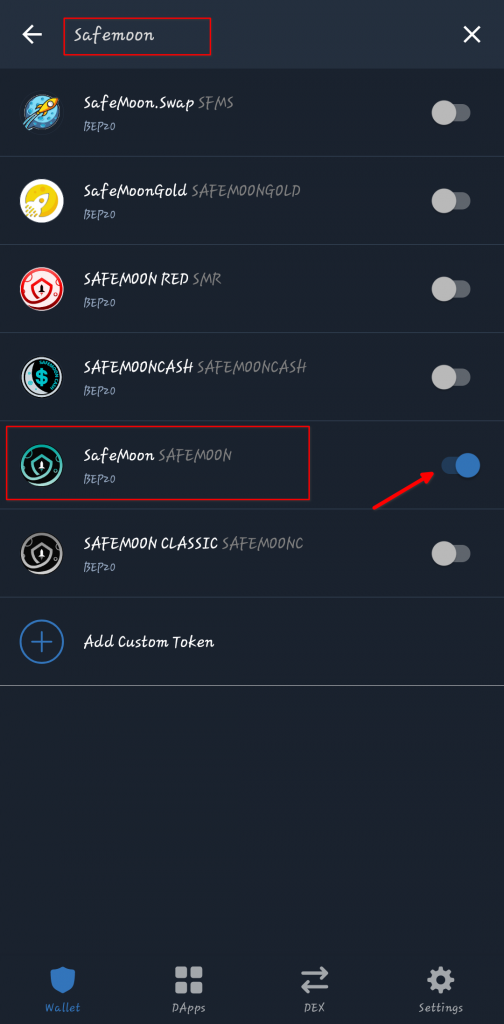 Hit the back button and swipe down to refresh to view your Safemoon balance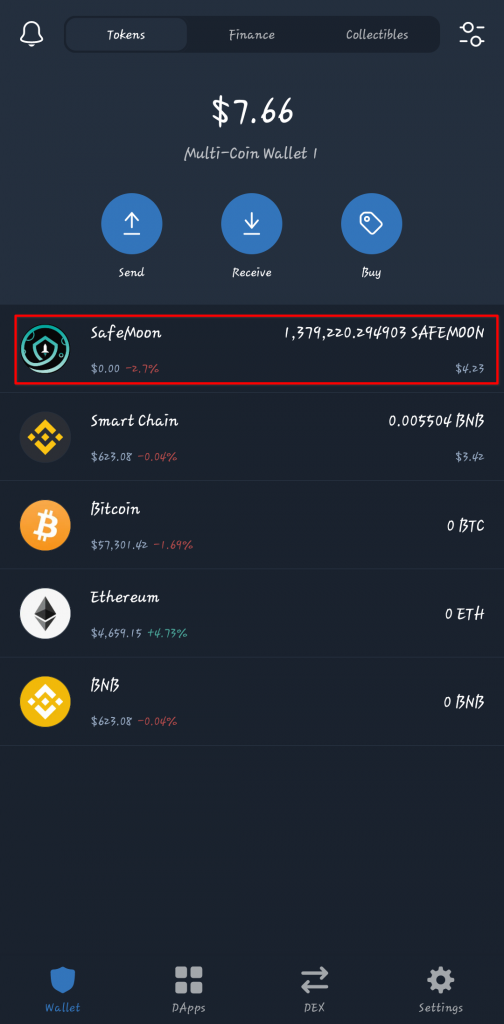 FAQ
Can you buy SafeMoon on Coinbase?
For now, no, you can't buy SafeMoon on Coinbase because it is not listed on the exchange. Sometime in the future, it might get listed on the platform if Safemoon meets all the requirements set by Coinbafse for listing new tokens.
How to buy safemoon on trust wallet iPhone?
Trust Wallet works the same way on both Android and iOS devices so this guide on how to buy SafeMoon on Trust Wallet will work on both Android phones and iPhones.
If you cant access the DApps browser on the Trust Wallet app for iPhone, please check out our guide on how to enable Trust Wallet dapps browser on iPhone to get it working easily.
Is Safemoon a good investment?
Even though the Safemoon project has given some of the best ROIs we've seen in the crypto world this year, there are still some risks involved with investing in cryptocurrencies. A general rule of thumb is not to invest any amount you're not willing to lose.
Whether Safemoon is a good investment or not will generally depend on you and in what light you view the project after your research. That said, Safemoon has a very strong community and a fully doxxed team behind it so a rug pull doesn't seem likely and your investment will surely be safe.
Conclusion
We hope this guide helped you purchase safemoon on the Trust Wallet app successfully and easily. If you have any issues, you can leave them in the comments below and we'll provide solutions as soon as we can.