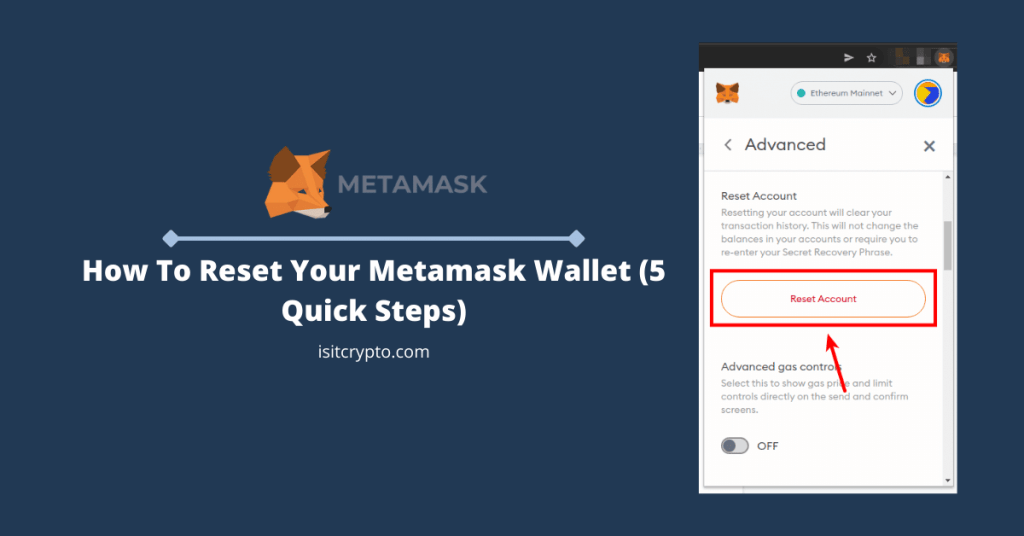 Metamask is one of the leading decentralized crypto wallets out there and the wallet is available on desktop (as a browser extension) and as a mobile app on both Android and iOS devices.
On Metamask, one of the best ways to get rid of many errors which might show up from time to time is to simply reset the wallet. Resetting the wallet will not wipe your funds or delete your account, it will simply reset all the settings (particularly transactions) on your wallet.
In this article, you will learn how to reset your Metamask wallet easily as well as some issues which can be fixed by simply resetting your wallet.
When Should You Reset Your Metamask Wallet?
If you're experiencing some glitches on Metamask like transactions stuck in "PENDING" for a long time or you simply want to clear up your transaction history, it is recommended that you reset your wallet.
Also, if have a transaction that is stuck at "PENDING" but fails to show up on blockchain explorers like Etherscan or BscScan, then you reset your Metamask wallet to remove those from your transaction history.
One major cause of errors and glitches when it comes to transactions on Metamask is when the wallet has an incorrect nonce value. 
A quick reset on Metamask will also reset the local nonce calculation and it might fix most (if not all) of the issues you might be facing with pending and failed transactions on your wallet.
How To Reset Your Metamask Wallet Easily
Before resetting your Metamask wallet, we recommended that you have your recovery phrase backed up safely so you don't lose access to your wallet just in case something goes wrong in the process.
You will not lose any of the funds on your Metamask wallet by resetting it and it will not require you to enter your recovery phrase. We only recommend that your back up your recovery phrase because it is the right thing to do since you don't know what could happen.
Metamask also recommends that you download your state logs before resetting your wallet. State logs are used by the official Metamask support team to troubleshoot the issue with your wallet if you still face problems after resetting the wallet.
You can download your state logs on Metamask by clicking on the account icon and then selecting [Settings]. Next select [Advanced] then click on [Download State Logs] to download your state logs.
Once you have your state logs, you can follow the guide below to reset your Metamask wallet/account.
Step 1: Launch Metamask and input your password to unlock the wallet.
On your browser, click on the Metamask icon in the extensions section of your browser to launch Metamask. Next, input your password and click on [Unlock] to access your wallet.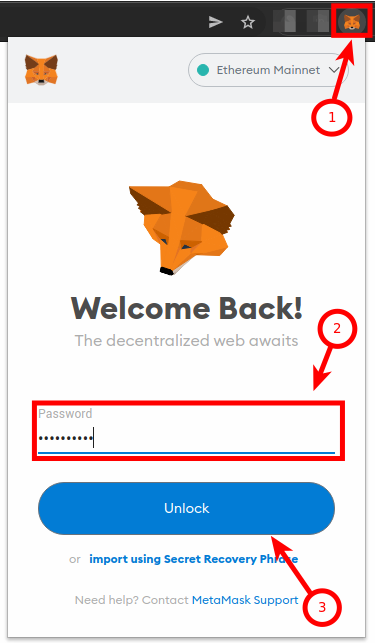 Step 2: Click on the account icon on Metamask.
On the Metamask homepage, click on the circular icon (your account icon) located at the top right corner of the screen.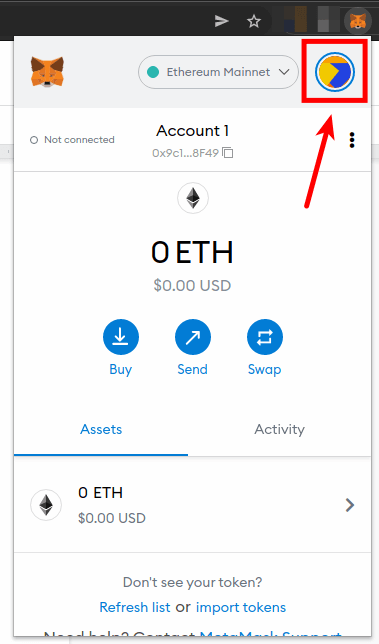 On the menu, click on [Settings] to open the Metamask settings page.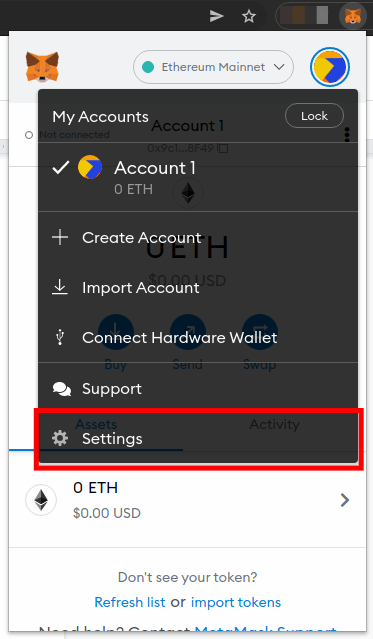 Step 4: Select [Advanced].
On the Metamask settings page, click on [Advanced].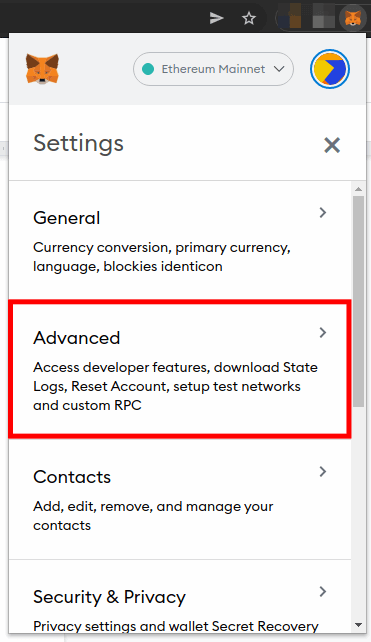 Step 5: Scroll down and click on [Reset Account].
Next, scroll down and click on the [Reset Account] button in the Account Reset section.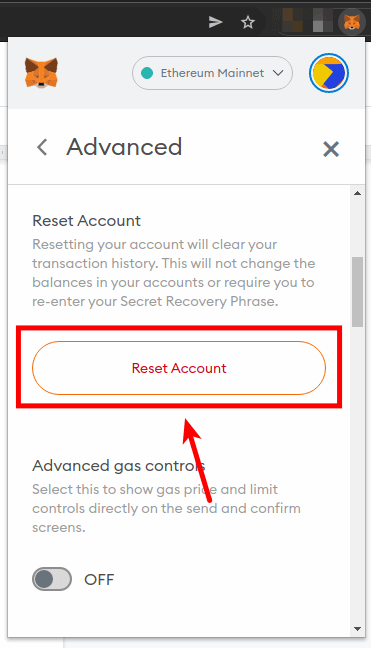 Step 6: On the dialog, click on [Reset] to reset your Metamask account.
Metamask will alert you about resetting your account and what it does on a dialog. Click on [Reset] to reset your Metamask account.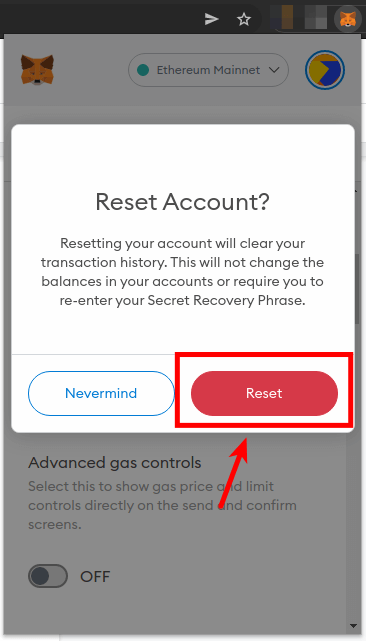 Finally, go back to the Metamask homepage and if you no longer see your transaction history, you have successfully reset your Metamask wallet. 
If you had pending or failed transactions before resetting the wallet, you can try those execute those transactions again to see if they will go through now.
How To Reset Your Account On The Metamask Mobile App
On the Metamask mobile app, resetting your account is a quite similar process since both the browser extension and mobile share a similar UX.
To reset your Metamask account on the Metamask mobile app, launch the app and tap on the Menu icon on the top left corner of the home screen.
Next, tap on [Settings] to open the settings page. Select [Advanced] the tap on [Reset Account].
Finally, tap on [Yes, reset] to reset your account.
What Happens When You Reset Metamask?
Resetting your Metamask account simply clears your transaction history. If you had pending or failed transactions that can't be found when you input your Metamask wallet address on a blockchain explorer like Etherscan, those transactions will be removed after you reset Metamask.
So if you have transaction issues, a simple reset on your Metamask wallet will fix most if not all of those issues.
How Long Does It Take To Reset My Metamask Wallet?
Resetting a Metamask wallet is an instant process. Once you click the button, your account will be instantly reset and your transaction history (including stuck, pending, and failed transactions) will be wiped from your wallet.
If can still see your transactions after resetting Metamask, close the browser (or mobile app) and then relaunch Metamask. After that, you can try resetting the wallet again the step outlined in the guide and it should work.
If it still doesn't still work after that, delete the extension (or mobile app) the re-import the wallet to Metamask using your recovery phrase. Make sure that you safely back up your recovery phrase before deleting the Metamask extension or mobile app!!
Wrapping Up
We hope this guide on resetting Metamask helped you reset your wallet successfully and eventually fix most of the transaction issues you were facing on your wallet.
You won't lose the coins/tokens stored on your Metamask wallet when you reset it and in most cases, Metamask will not ask you to input your recovery phrase or wallet password after resetting your account but we still recommend that you backup your recovery phrase before performing an action like this on your wallet just in case something goes wrong.
If you're still having transaction issues even after resetting your Metamask wallet, try reaching out to the Metamask support team by submitting a ticket and they will try to help you.